ONLINE MARKETING: PUSH VERSUS PULL
PUSH marketing and PULL marketing were concepts in marketing literature even before the internet came along. Now that more and more marketing is done online the distinction between them is even more valuable.
In a nutshell:
PUSH MARKETING
...is all about getting your business name out there, to as many potential customers as possible, and as often as possible. Think billboard advertising and traditional TV advertising. The aim is that when a potential customer requires a product like your business provides, they will remember your business first and approach you.
PULL MARKETING
...starts with the customer. The customer has already made the decision that they need a product (e.g. a small business owner needs a new accountant), so they go about looking for one. More often than not, this will involve a search engine or specialist online directory. Here the business's strategy should be more about FINDABILITY than GENERAL VISIBILITY.
PUSH MARKETING
PULL MARKETING


STRATEGY


Visibility
Findability


BEST FOR:

Mass Consumer Products (Brands)
Niche Services

STYLE

In-your-face
Non-intrusive

ONGOING
UPKEEP

Continual
Occasional

CUSTOMER
INTENT

Vague
Focused

TRADITIONAL MEDIA EXAMPLES

Billboard, Radio, TV, Print
Yellow Pages, Classifieds

DIGITAL MEDIA
EXAMPLES

Social media, Tweets, Facebook Posts, Feeds
Search Advertising, Online Directories
Although everyone now realises the benefits of online advertising and marketing versus traditional media marketing, there is still confusion between the concepts of push marketing versus pull marketing. The mindset of many professionals and small business operators is still stuck in the push marketing paradigm. There are many reasons for this:
For older generations this is largely how the world worked before the internet. "Exposure, Exposure, Exposure!" was the mantra, and even today terms like "advertising" and "marketing" immediately conjure up an outbound activity.

University and college courses on marketing are often designed to train up marketing executives who will ultimately head up marketing departments for large national and international companies where brand advertising rules and maximum visibility is an overriding marketing imperative (and always will be). Think Coca Cola, BMW and Gillette.

During their academic training many professionals, such as accountants and attorneys, may be exposed to Marketing 101 courses in their curriculum but, once again, these courses are geared more towards big corporation advertising than (for example) small accounting practice marketing.

Push marketing is highly visible. We are bombarded with mass adverts every day. This is the way we see the world and our understanding of the world is thus shaped. Push marketing effectively pushes push marketing. Pull marketing is much more non-intrusive and subtle, taking place behind the scenes.

A WORD ON SOCIAL MEDIA MARKETING
At present the world is awash with social media experts. Social media marketing dominates the digital marketing conversation. But have a look at the quadrant diagram below, Social media marketing, in our opinion, is just a return to the old push marketing paradigm.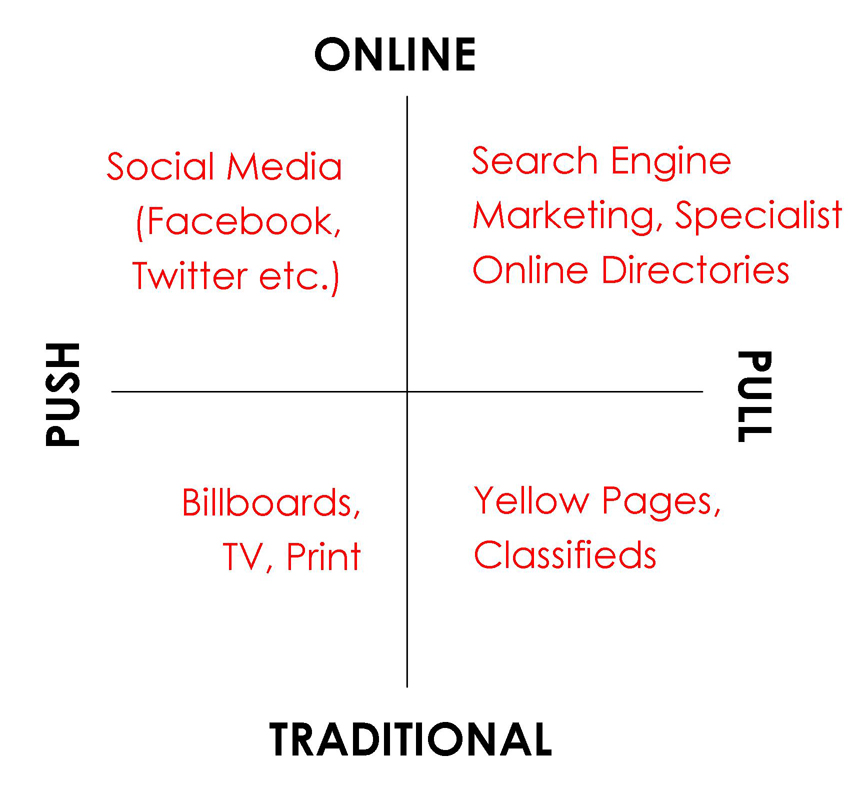 This is not readily apparent, especially as the current marketing term inbound marketing seems to lump all online marketing (including social media marketing) into the inbound marketing category.
We believe the Push/Pull distinction is more handy for honing online marketing tactics. Social media is broadcast media - it is about tweeting as often as possible, updating your Facebook page as much as possible, keeping your Instagram feed fresh. Continually vying for your slice of the feed, so that potential customers won't forget about you. (see also: Why getting Facebook recommendations for an accountant might not be the best way for the consumer to find an accountant) Yes, this is the gold standard for chain stores and brand advertising but is it the optimal strategy for a small professional firm looking to gain clients that already know what they want?
The ultimate irony of visibility marketing is that even when your firm's name does jump up in the back of somebody's mind when they are looking for a service like yours - they will likely type your firm name into a search engine to find your details. So in the end findability rules.
If you are a South African accountant or bookkeeper and want to be found in SA what better place to register than FindanAccountant?
See what makes our online accountant directory different.