THE SARS eFILING MOBILE APP
Article by listed AccountantNadeen Rajin

Download links:
Google Play ­ https://play.google.com/store/apps/details?id=air.za.gov.sars.efiling&hl=en
iStore ­ https://itunes.apple.com/za/app/sars­mobile­efiling/id554610898?mt=8

App Details
SARS Mobile eFiling
Version: 1.7.23
Developer: South African Revenue Services
Developer website: www.sarsefiling.co.za
Platforms: Android, iOS

Price: Free
Size: 17MB

App description:
The SARS eFiling Mobile App was developed by the South African Revenue Service (SARS). Nowadays everyone has a smartphone or tablet, therefore the convenience of filing a return on your mobile device, wherever you might be, is quite appealing.
As a registered eFiler you can use the SARS eFiling App to:
• View, complete and submit your annual basic Income Tax Return (ITR12)
• Save and edit your ITR12 locally on your device
• Use the tax calculator to get an indication of your assessment outcome
• View the status of your return once submitted
• View a summary of your Notice of Assessment (ITA34)
• View a summary your Statement of Account (ITSA).

You might also be interested in: The EZ EXPENSE MANAGEMENT APP
My experience using the App:
I've been aware of the SARS eFiling Mobile App but never actually considered downloading it. I wasn't too sure if it was worth the download. There were mixed reviews on Google Play Store with over a 100,000 downloads and an average of 3.8 stars.
However, I decided to try it out and make my own conclusions.
I must admit that I was pleasantly surprised at the quality of the application! It was simple and easy to use. The user is able to save a copy of the return at any time – this allows the user to switch between apps and take calls, and still be able to return to a saved copy of their return at a later stage.
In order to use the Mobile App, you will need to login with your unique efiling username and password. Therefore, before downloading the mobile app, it will be necessary to register on SARS eFiling website.
After you have registered as an eFiler, then simply log into the app.
On the home page you will see your income tax returns and their status.
If your return is outstanding, then it will look as follows: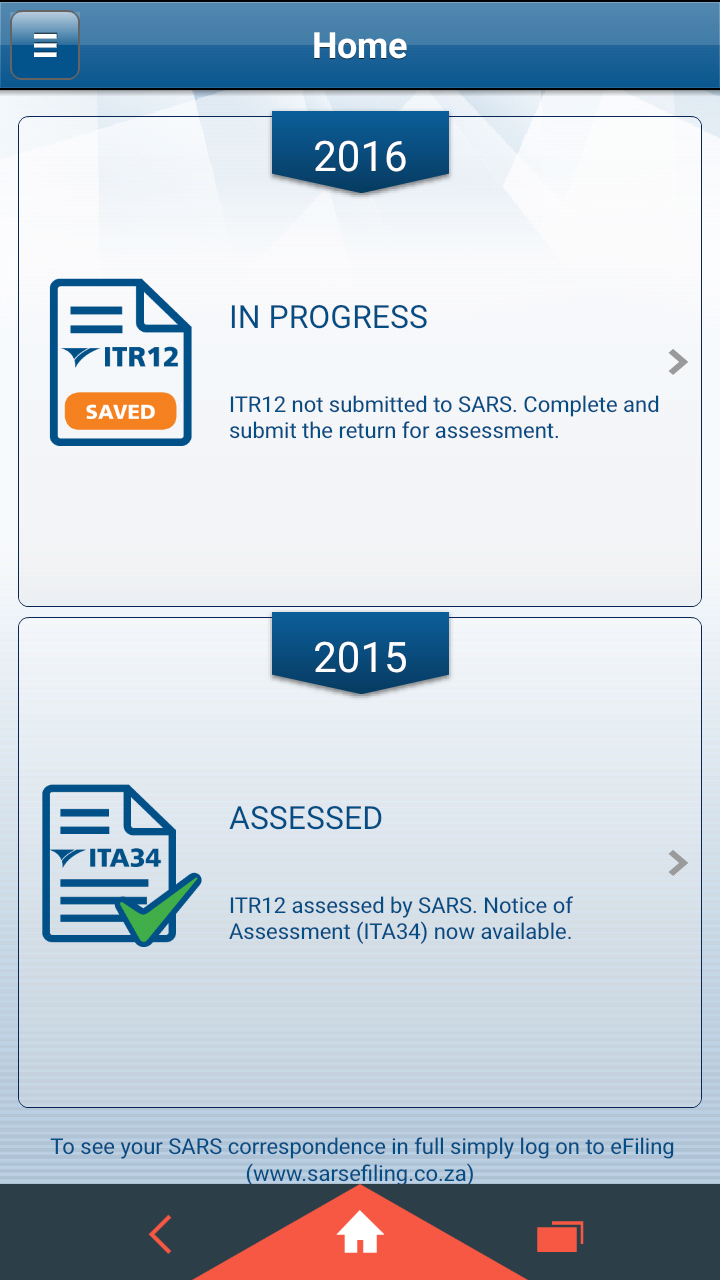 You will then click on the return and after a few seconds (depending on speed of your data connection), a few form tips appear which assist in completing the return: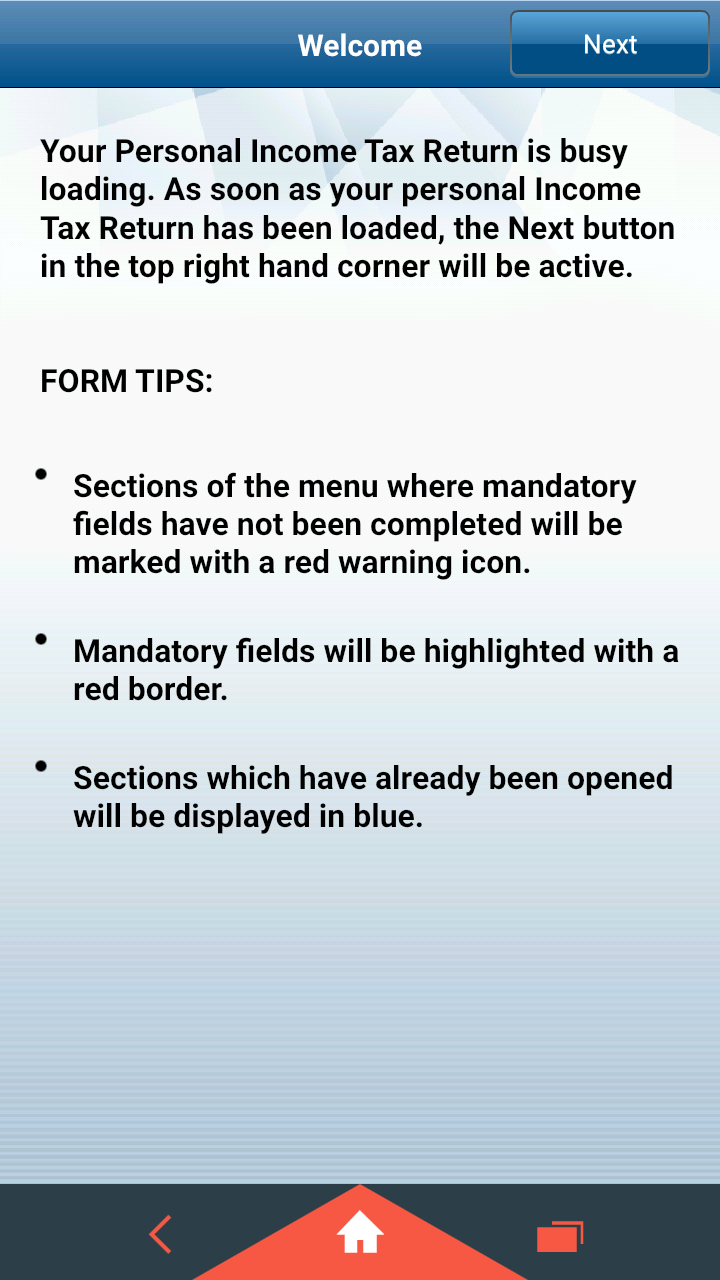 Click on next after reading the messages, and the return will open up on your screen and divided into each section of the return.
You will then click on each section and complete the return. Remember to have your IRP5, IT3b, medical tax certificates and other necessary documentation on you.
If you decide to close the return and complete it at another time, the homepage will reflect the return as "in progress":
Once all the relevant sections have been completed, you can choose to calculate the tax to give you an idea of how much tax is payable to or refundable by SARS.
Finally, submit your return to SARS. The return will be reflected as complete on your homepage.
You should receive an SMS/email shortly thereafter saying that SARS has assessed your tax.
Other features available on the app is the inbox and statement.
Inbox contains messages regarding your returns and statement of account.
Statement is a summary or basic layout of your Statement of Account.
I would have liked if I could download my IT34, ITR12, and ITSA directly from the mobile app. The movement between sections and returns could be more user­friendly.

Bottom line:
The application is easy to use, efficient, saves time and data, and convenient.