ACCOUNTANTS - THE NECESSITY OF DIRECTORY LISTINGS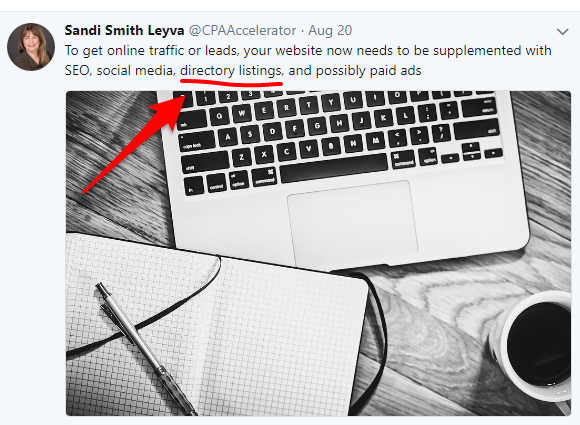 There you have it! For accountants to get online traffic or leads, one of the things you must have is directory listings.


There are few people more expert in the marketing of accounting firms than the author of the above tweet - Sandi Leyva. Sandi is the founder of Accountant's Accelerator - offering marketing and practice growth training.
Sandi was named one of the Top 25 Thought Leaders for 2017 and one of the Most Powerful Women in Accounting by CPA Practice Advisor. She won a 2013 Stevie Award for "Maverick of the Year" and is a member of the prestigious Forbes Coaches Council. Her work has been noted by Forbes, CBS News, Accounting Today, Journal of Accountancy, Today's CPA, and The Practical Accountant.
Getting exposure to your accounting practice from visitors to an accountant directory is not the only reason to get listed. There is also the SEO benefit of a high-quality incoming link to your own website.